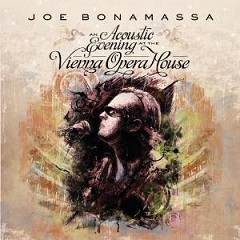 1-1. Arrival
1-2. Palm Trees, Helicopters And Gasoline
1-3. Jelly Roll
1-4. Dust Bowl
1-5. Around The Bend
1-6. Slow Train
1-7. Athens To Athens
1-8. From The Valley
1-9. The Ballad Of John Henry
1-10. Dislocated Boy
1-11. Driving Towards The Daylight
2-1. High Water Everywhere
2-2. Jockey Full Of Bourbon
2-3. Richmond
2-4. Stones In My Passway
2-5. Ball Peen Hammer
2-6. Black Lung Heartache
2-7. Mountain Time
2-8. Woke Up Dreaming
2-9. Sloe Gin
2-10. Seagull
Let me start with a disclaimer: I'm not really a huge fan of acoustic music. There are exceptions (I don't mind the occasional acoustic set to break things up, for example), but that's the general rule. So, if you want a fair review of this album, I welcome you to look elsewhere (I know how frustrating it can be to read somebody's review of something you like, when the reviewer doesn't like it). Still, I'm not going to say this is a
bad
album just because it doesn't tickle my fancy. Certainly, it's another in a long list of impressive feats - Joe proves his ability to captivate a crowd without relying on the screaming electric guitars he's built his reputation on. And, as typical of any consummate professional, these tunes (a mixture of covers and originals) reveal the melodic strength that lies at their core when stripped down to the bare essentials.
That having been said, one of my primary complaints about this concert (and, from an opposing perspective, one of its potential draws) is the fact that this is not so much Joe Bonamassa "Live and Unplugged" - alone, sitting in a chair with an acoustic guitar (which is something I could more readily get behind) - but Joe with a full acoustic band and a bevy of instruments (some not unlikely recycled from the
Black Rock
sessions), including a fiddle, banjo, mandolin, piano, accordion, harmonium(?), nycklharpa(!), mandola (apparently different from a mandolin), and lightweight, bongo-style percussion. The result may be a beautiful harmony of sound - something akin to a folk symphony - but I'll maintain that the most interesting tracks are not the traditionally acoustic numbers gathered together here, but the normally electrified ones that have been stripped back and played against type.
Take, for example, Slow Train - the slow-building electric powerhouse that has been expertly adapted to the acoustic instruments available. Or The Ballad of John Henry, an epic showstopper reduced to its folk blues roots. I must confess that this album is worth its price of admission alone for its haunting, acoustic version of Sloe Gin (easily the show's highlight even in acoustic form) - sparse, quiet, and without the usual wall of amplifiers behind which the human emotion sometimes drowns (although, in fairness, one of my favorite things is to hear musical instruments emote in place of the humans playing them). The usually soaring Mountain Time is decidedly less impressive in this context, however - reverting to the forgettable status it earned in its original studio incarnation on
So, It's Like That
. Dust Bowl, on the other hand, sounds great in acoustic form - owing to the strength of its melody and lyrics - as does Driving Towards The Daylight, an obvious inclusion on the setlist. Meanwhile, Dislocated Boy's adaptation to the acoustic format represents a decidedly more impressive transformation.
It is perhaps surprising to hear Jockey Full of Bourbon on this album, but the strong piano part makes it an appropriate choice, as is the Robert Johnson cover Stones In My Passway, reverted to acoustic form (although you won't mistake Joe Bonamassa for Robert Johnson any time soon). Ball Peen Hammer and High Water Everywhere - both previously heard in acoustic form on
Live From Nowhere In Particular
- put in a repeat appearance, but this album's version of Woke Up Dreaming is not as impressive as past versions, coming in at only five minutes. Some other older songs make a welcome appearance, including the show-opening Palm Trees, Helicopters, and Gasoline - an acoustic instrumental from
You & Me
- and the airy slide instrumental From The Valley, hailing from
The Ballad of John Henry
.
Expectedly, songs from Joe's mostly acoustic album,
Sloe Gin
, are to be heard in abundance. Aside from the aforementioned title track and Ball Peen Hammer, there is also Jelly Roll, the prettier version of Around The Bend (in contrast to the earlier version recorded for
Had To Cry Today
), Richmond (one of Joe's better traditionally acoustic songs - it has a bit of the feeling of Led Zeppelin's That's The Way), and the acoustic ballad credited to Bad Company, Seagull. I'm surprised there aren't more songs from Black Rock represented here (aside from Athens to Athens, which fits comfortably in this context - if sounding a bit "fiddly"). From Dust Bowl, the acoustic-leaning Black Lung Heartache (with its infectious chorus) also fits in with the night's theme well.
All told, this isn't necessarily the acoustic album I'd have wanted to hear, but then, I'm the last person whose opinion on acoustic albums should be considered (a fact that I humbly accept). It's one of the few Joe Bonamassa albums I consciously skipped - I avoided picking it up immediately when it came out - and only bought later to fill the glaring hole in my collection (I still need to pick up the DVD at some point - like
Live From The Royal Albert Hall
, I don't doubt that this would be a concert more fun to watch than just listen to). As such, it's not an album I listen to frequently. But it's worth hearing as a Joe Bonamassa fan; and you might like it a whole lot more if you don't share my bias against acoustic music. But in my case, I'd much rather put Joe's Tour de Force on the turntable for [yet] a[nother] spin. -_^
Rating
: 💿 Rare Spin