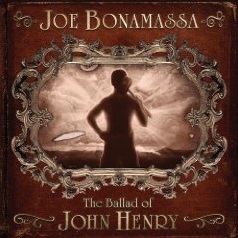 1. The Ballad of John Henry
2. Stop!
3. Last Kiss
4. Jockey Full of Bourbon
5. Story of a Quarryman
6. Lonesome Road Blues
7. Happier Times
8. Feelin' Good
9. Funkier Than A Mosquito's Tweeter
10. The Great Flood
11. From The Valley
12. As The Crow Flies
Whether or not you call it his best (there is a lot more greatness to come!), I feel like this is the quintessential Joe Bonamassa album. Upon reflection, John Henry is a perfect choice to symbolize what Joe stands for. A true American legend, John Henry was the steel-driving man who raced a steam-powered engine, and won. And though the effort conquered him, in The Ballad of John Henry, Joe Bonamassa sings, "bring me the hammer that killed John Henry, 'cause it won't kill me." What a show of bravado and confidence! And yet, coming from Joe - the hardest working musician alive - it sounds completely genuine. It's the reason why I count Joe Bonamassa not just an amazing artist whose music I enjoy listening to, but a genuine role model that I look up to in my life - someone with a dream, guided by a true passion for what he does, who just keeps on chugging along like a railroad train no matter what obstacles lie in his path. In my case, it may be a bit of wishful thinking, but we all need something to live up to, to drive us forward.
The Ballad of John Henry is a mature album. I said that Joe's music started sounding "modern" as far back as
Had To Cry Today
, but this is Joe as a professional musician, and not just a guitar wunderkind (as if that wasn't enough!). And if Joe demonstrated newfound control over his raw, unbridled talent on
You & Me
, on this album he displays a remarkable level of command - not just as a guitarist and singer, but as a songwriter, too, as a full half of the tracklist consists of Bonamassa originals (not including his contribution to adapting the title track from a blues ballad by Mississippi John Hurt). The music here is polished, with less reliance on clichés, and songs that aren't so easy to categorize into preconceived roles (such as "the slow blues", or "the pretty ballad"). Apart from the title track, there are less peaks (songs that immediately jump out at you), but the background quality of the album as a whole is higher than ever before.
Take The Great Flood, for example. This is a song I didn't even really notice until I was blindsided by the live version from Joe's Tour de Force. Now it's one of my favorites. It's unassuming, but it constructs a very melancholy atmosphere, before laying out a subdued (albeit less so on the live version) yet very soulful guitar solo, accompanied by a distant, wailing saxophone. It doesn't reach out and say "look at me!"; it's the man in the corner nursing a bottle whom you'd just as soon overlook, but given a chance, would regale you with incredible stories of woe from his life. And then there's Happier Times, which sounds like it would be more upbeat than it actually is, until you realize that it's not called "Happy Times".
A couple albums ago
, Joe was boasting that he'd go down any road there is, but now he's singing like a man who's already been around the block a few times, and has seen some things. But don't despair, for in the very next song, Joe sings about how he's Feelin' Good. And why not? He's managed to carve out success for himself with his own bare hands.
We've already been introduced to the recurring railroad theme in a lot of Joe's songs, but this album takes a detour from the cotton fields of the Mississippi delta, and the electric blues clubs up north in Chicago, to head out west, molding those influences with a reverence for the American frontier (which we'll hear more of on
Dust Bowl
). To wit, Jockey Full of Bourbon (a truly inspired Tom Waits cover) sounds like something straight out of a wild west saloon (if, you know, they had electric guitars back then). On that note, and perhaps inspired by the success of Sloe Gin, there are some less obvious choices for covers on this album, such as Ike & Tina Turner's humorously titled Funkier Than A Mosquito's Tweeter. For better and worse, Joe has evolved beyond the stage where his albums are defined by big name classic rock covers. (And though I've always enjoyed those covers, I love the new direction he's gone in - and it's better for his career and reputation in the long run).
The Sam Brown cover Stop! is an infectious hit (I tell you, Joe is introducing me to some eclectic music), and the Bonamassa original Last Kiss is another one that tends to stick in you ear ("tell me how long supposed to keep a good man down, 'fore he packs his suitcase and gets the hell out of town?"). Story of a Quarryman rocks pretty hard, with a nice, chunky riff, while Lonesome Road Blues is the best rock filler track Joe's recorded yet - but hold out for live versions if you want to hear some even more frenetic solos. The album finishes with a sparse and airy gospel-flavored acoustic instrumental titled From The Valley, which sounds very much like something from Michael Bloomfield's collaboration with Woody Harris, followed by an electric cover of Tony Joe White's As The Crow Flies (which I remember hearing on Rory Gallagher's Irish Tour album from 1974). It's a mature album from a mature artist, and a great record to spin. What's next for Joe? Headlining one of the most prestigious concert halls in the world (a far cry from "
nowhere in particular
"!), and inviting one of his lifelong idols up onto the stage to play with him!
Rating
: 💿💿💿 Frequent Spin